Amis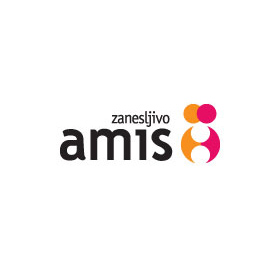 AMIS
AMIS is an international company with more than 150 employees in Slovenia and 60 in Croatia. It is the leading alternative telecommunication company in Slovenia servicing residential and business market. More than 60.000 users on broadband ADSL or fiber access are using contemporary services of high end IP Telephony, broadband access, IP based television, remote storage and different types of online security. AMIS differentiation was traditionally based on stability and reliability, technical advantage, customer support excellence, permanent introduction of new services all resulting in excellent value for money. In 2009 AMIS introduced first the alternative nationwide 3-play offer combining local loop unbundling and wholesale access. Amis IPTV 2.0 was introduced as platform for next generation TV services based on content-on-demand functionality integrating Internet like functionalities with TV experience. Strong growth resulted in total revenues of more than 30m EUR in 2008. Amis Group became EBITDA positive on yearly level in the first half of 2009. Main tasks in the project In the project AMIS will take care of telecommunication, wireless and wired infrastructures. AS WP08 leader, it will be fully involved in the experiment activities. Previous experience relevant to those tasks Amis has experiences from FP6 and FP7. In FP6 Amis was a partner in the STREP project edutain@grid, FP6 IST-034601 (edutain@grid, 2006), with main role in system integration, testing and validation. In FP7 Amis is still active under ARISTOTELE IP project, FP7 ICT- 257886 (Aristotele, 2010).
Short profile of key persons
Janez HRASTNIK - He studied Technical Mathematics and Computer Science at the Graz University of Technology, Austria. He got his Masters degree in 2001. Currently he is finishing his PhD (in Semantic technologies and BPMS). His sphere of competences includes improvement/modeling/optimizing/automation of business processes, different methods for assessment, measurement and audit of quality management systems and processes, knowledge transfer, project management. He gained professional experience working for several organizations: Know-Center Graz, Hyperwave R&D, ISCN Ltd. Ireland, IICM and IST at TU-Graz. Since 2007 he has served as CIO at Amis.
Damjan CERIC ?After earning a BS in Computer Science at the University of Maribor, he embarked on his carrier in 1999 at Microsoft Slovenia. In 2001 he joined Amis as Head of the Voice Department, where he worked on implementing VoIP in Slovenia and various scenarios focusing on Wi-Fi, cable, optics, routers, switches and soft-switches. His responsibilities included developing VoIP applications and solutions. Responsible for Videoconferencing solutions, working with Tandberg involving endpoints, MCU?s and management systems, creating streaming solutions via Helix Server, managing various scenarios and customer demands. He has been Chief Technology Officer at Amis since 2008.